20% Off ALL Ready To Eat Frozen Mazesoba and Ramen Kits (Until 30 Oct)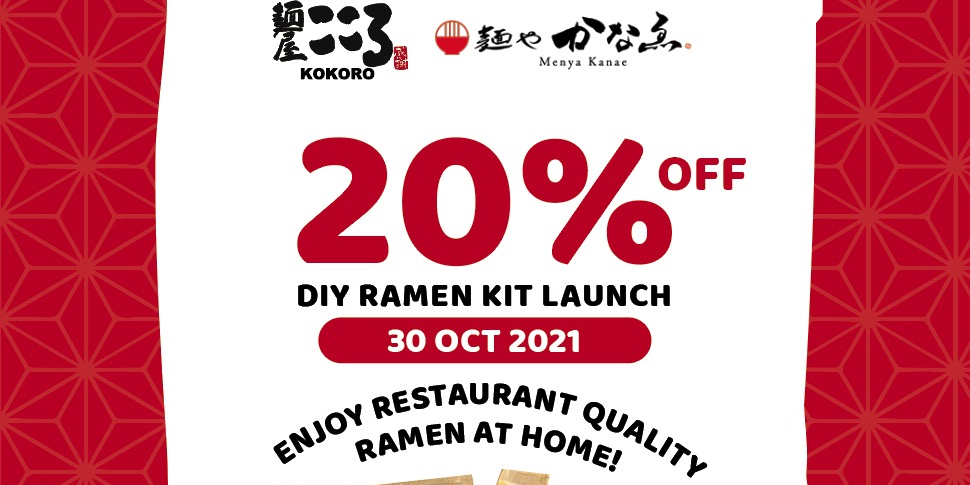 Savour restaurant quality meals anytime in less than 15 mins! Whether for a quick work lunch or late-night supper, Menya Kokoro and Menya Kanae's newly launched Ready To Eat Frozen Mazesoba and Ramen Kits let you have your Japanese noodle fix whenever the cravings hit.
Extended restrictions mean more stay home meals or takeaways, but that doesn't have to be a downer as Japan's No.1 Mazesoba Chain, Menya Kokoro and Ebi Specialty Ramen Bar, Menya Kanae launches their new Frozen Mazesoba Kits with 20% off until 30 October 2021 only!
From Original to Spicy Mala and Chashu Tokyo Mazesoba to authentic Hokkaido Miso, Sapporo Ebi Chashu and Tonkotsu Shoyu ramen – there's oddles of reasons to love whipping up a comforting bowl of noodles for your loved ones.
Ready To Eat Frozen Mazesoba Kits:
Original Mazesoba
Chashu Tokyo Mazesoba
Spicy Mala Mazesoba
Ready To Eat Frozen Ramen Kits:
Hokkaido Tonkotsu Miso Ramen
Sapporo Ebi Chashu Ramen
Asahikawa Tonkotsu Shoyu Ramen
Shop Menya Kokoro and Menya Kanae's Ready To Eat Frozen DIY Mazesoba and Ramen Kits: https://anytime-ramen.com/
Related Deals & Promotions
Search Deals & Promotions
Trending Deals & Promotions