Shake Shake In A Tub Opens at AMK Hub with 12pcs for $12 Promotion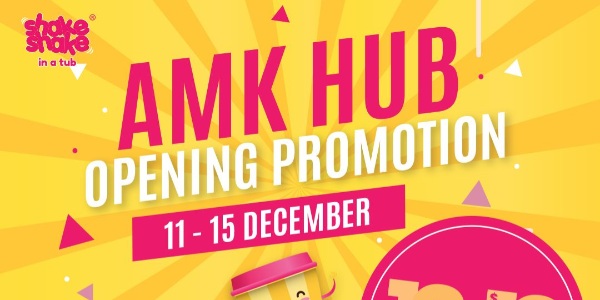 North-Easterners rejoice! Shake Shake In A Tub has opened their 7th outlet at AMK Hub, #B2-47.
The halal-certified snack joint is celebrating the opening of their 7th outlet in Singapore with a 12pcs for $12 promotion. From 11 Dec to 15 Dec, get 12pcs of Shake Shake Chicken for just $12! Crisp on the outside, juicy and tender on the inside, customers get to try their range of lip-smacking Original Soy Garlic and Spicy Shake Shake Chicken at only $1 per pc! Amp up on the flavour experience with any one of their exciting flavours. Expect a wide range of bold flavours, from mainstays like Truffle, Cheese, Sour Cream & Onion, Mala, Curry, Barbeque, as well as, tantalising seasonal special such as Laksa. Mix and match different flavour pairings for the ultimate umami surprise!
Terms and Conditions apply: 
– Promotion is available from 11 December to 15 December 2020
– Valid for takeaway only at AMK HUB oulet, and not applicable for delivery
– Limited to 1 flavour per set of 12pcs
– Each customer can buy up to 3 sets of 12pcs, while stocks last.
– In order to enjoy the promotion, customer must show that he/she is following 'Shake Shake In A Tub' Facebook page or Instagram page at the counter
– Promotion is not valid with any other discounts or promotions
SHAKE SHAKE IN A TUB 
AMK Hub Outlet
Address:  53 Ang Mo Kio Ave 3, AMK Hub, #B2-47
Singapore 569933
Opening Hours:  Daily 10am to 10pm
Instagram/Facebook: @shakeshakeinatub
About Shake Shake In A Tub 
Tasty and delicious snacks are at the forefront of any self-respecting food and beverage company today, but at Shake Shake In A Tub, being 'FUN' is very much the name of the game too. Founded in 2019, home-grown Singaporean brand, Shake Shake In A Tub specialises in interactive finger foods and drives this bold concept with their innovative offerings and vibrant energy. They are committed to using only the best ingredients for their fresh offerings and seasonal flavours sourced from Halal suppliers. The brand has been halal-certified by MUIS on 27 June 2020. Numerous possibilities and endless enjoyment begin with Shake Shake In A Tub!
Related Deals & Promotions
Search Deals & Promotions
Trending Deals & Promotions