SHARP new front load washers in 9.5kg and 12.5kg capacities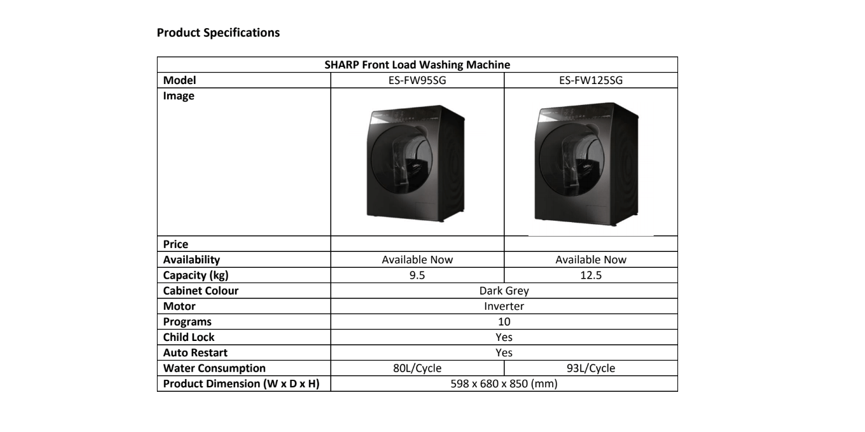 SHARP washes up your cleanest load of laundry with new front load washers in 9.5kg and 12.5kg capacities – Powered by SHARP's J-Tech Inverter technology, the new models wash in 10 programmes and clean with new Steam Care feature for 99.9% removal of allergen and bacteria 
Open the doors to your cleanest, freshest most eco-friendly load of laundry with SHARP's new front-loading washing machines, ES-FW95SG and ES-FW125SG available in two respective capacities: 9.5kg and 12.5kg.  
The new models are SHARP's most powerful and smartest washers yet, powered by its J-Tech Inverter technology for powerful spins and sensitive water level detections. They wash in 10 programmes, including Cotton, Eco, Super Quick, Rinse + Spin, Wool, Scent, Allergy, Hygiene, Bedding and Drum Clean to not only clean your clothes, but also their own interiors after each wash. They also come with a Steam Care feature that is capable of removing 99.9% of allergen and bacteria for complete peace of mind.  
Easily operatable via an easy-to-see guided control panel at the top, the models also come with child lock and auto restarts during unforeseen pauses. It is programmed to minimise water wastage for eco-friendliness. 
Look forward to clean clothes with no compromise each time you open the front-load doors to the new models.  
The SHARP ES-FW95SG and ES-FW125SG front load washers are priced at $1220 and $1553 respectively and available for purchase at Cocoro Life E-store and selected authorized retailers.  
For more information:  
About SHARP 
Celebrating 110 years of Japanese innovations since 1912. SHARP has remained committed to producing products that are innovative and forward-looking with exclusive technologies. Since then they have achieved 21 years of AQUOS TV, 100 million units of Plasmacluster products and 2 million units of Healsio Superheated Steam Oven sold worldwide.  
Sharp will continue to deliver innovative products with added energy saving features using technologies such as J-tech Inverter and No-Holes Tub washer for water saving. Also continue providing a range of appliances for households such as Ultra HD Android TVs, Multi-door Refrigerators, washing machines, Plasmacluster air purifiers, microwave oven, steam oven, audio and personal care products. 
They also launched the new Cocoro Life Singapore e-store to showcase exclusive Japan products to the Singapore market. https://cocorolife.sg/  
Related Deals & Promotions
Search Deals & Promotions
Trending Deals & Promotions