Sharp Technology Day on November 11, 2023 in Commemoration of its 111th Anniversary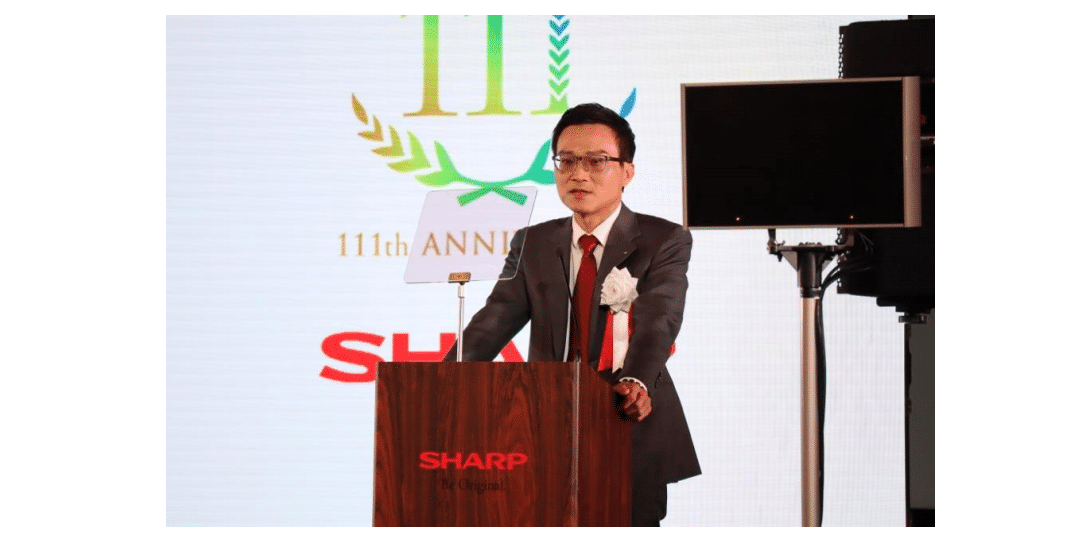 On April 17, SHARP Corporation (hereinafter "SHARP") held an event inviting their stakeholders to commemorate its 111th anniversary.
In the event, Robert Wu, President and CEO of SHARP, announced it will hold SHARP Technology Day on November 11, 2023. Currently, under the slogan "Be a Game Changer", SHARP is strengthening its own development resources along with accelerating open innovation by working in alliance with global companies and collaborating with start-ups to create innovative technology centring areas of AI, robotics, XR, 6G, food / water / air, green, and space industries that will change the world. At SHARP Technology Day, the company will introduce its technology strategy for the future, and also exhibit innovative products and solutions adopting its unique technology.
SHARP was founded by Tokuji Hayakawa, an entrepreneur and inventor who established a metalworking shop in Tokyo 111 years ago on September 15, 1912. Later he invented the "Ever Ready SHARP Pencil," a twist-type mechanical pencil that would later become the origin of the corporate brand.
Ever since, based on its business creed "Sincerity and Creativity" and its founder's ideal to "Make products that other companies want to imitate," SHARP has continued to introduce unique products and solutions including numerous Japan-firsts, industry-firsts, and world-firsts to contribute to the development of society. SHARP sets its target to become a true global company by developing into new areas including creating new businesses from local ideas, providing services close to the community, and developing start up solutions business.
By emphasizing ESG policy in its management, SHARP will continue to hold sincerity and its unique technology to contribute to society as global standing close by to people.
For more information:
–              SHARP Singapore: https://sg.sharp/
–              CEO Speech: Appendix 1
Appendix 1: CEO Main Speech
Your Excellencies and distinguished guests.
Thank you for all your encouraging messages to Sharp. Listening to your speeches, I am reminded that without the support from you and your people, we will not be where we are today.
I want to renew my commitment to give my utmost efforts to build and develop more innovative solutions that will enhance the lives of our global consumers.
It's important to know where you have come from, and to know where you are going. Change and Innovation are part of Sharp's DNA. Since the beginning, Sharp has been driving change, and will continue to do so.
When I assumed the helm, I had placed Digital Transformation as our core ingredient for success.
Six game changer technologies that are critical to our business success are; AI,  Robotics, XR, 6G, Green and Space industries.
We will continue to strengthen Sharp's brand image in the field of technological innovation and enhance consumer experience through the usage of our innovative products and solutions.
In addition, we have established Think-tank within each of our Business Unit to exclusively handle new business derived from this new tech development.
We are open to explore new partners' collaboration, in order to accelerate and achieve our business goals. So please feel free to be in touch, in this regard.
Sharp started its global business since 1962 when we established our base in New York. This was then extended to Europe, and Southeast Asia in the 70's. Today, Sharp's presence is in 33 countries with 99 footprints. As we strive towards globalization, we will strengthen our brand presence and sales marketing activities in each region.
It is also my responsibility to build resilient and committed business practices geared towards sustainability.
Integrating Digital Transformation with ESG goals will be our direction forward. I believe these two prominent factors will be the driving force for the future success of the Sharp brand globally.
I am excited to announce our SHARP TECHNOLOGY DAY which will be held on 11th November 2023. We are looking forward to showcase new milestones of innovation that would raise the global brand recognition of Sharp as a tech brand.
Globally, Sharp employs a total of 48,000 employees of which 18,000 are from Japan. Moving forward we will strengthen our core by focusing on our PEOPLE also means 'HITO' in Japanese. At Sharp, HITO means; Hybrid – Innovation – Talent – and Opportunity. Our aim is to cultivate a young, lively and open corporate culture that inspire and connect everyone. We take pride in the creativity and hard work of our talented people. This includes giving more opportunity to groom and promote the younger employees into leadership roles. We will be expanding our hiring across the region in order to raise a pool of globally-minded employees within the organization.
In the next 111 years to come, we at Sharp want to empower lives with our revolutionary products and solutions. My vision is to see Sharp transform society with our innovative solutions both at work and at home.
Once again, a big and heartfelt THANK YOU to all our distinguished guests and your excellencies for your support all these years. Sharp is privileged to have been a part of your lives and we owe our success to the people of your countries.
Thank you and do enjoy the rest of the session this afternoon.
Related Deals & Promotions
Search Deals & Promotions
Trending Deals & Promotions